Why Sanitizing Air Ducts has an important role?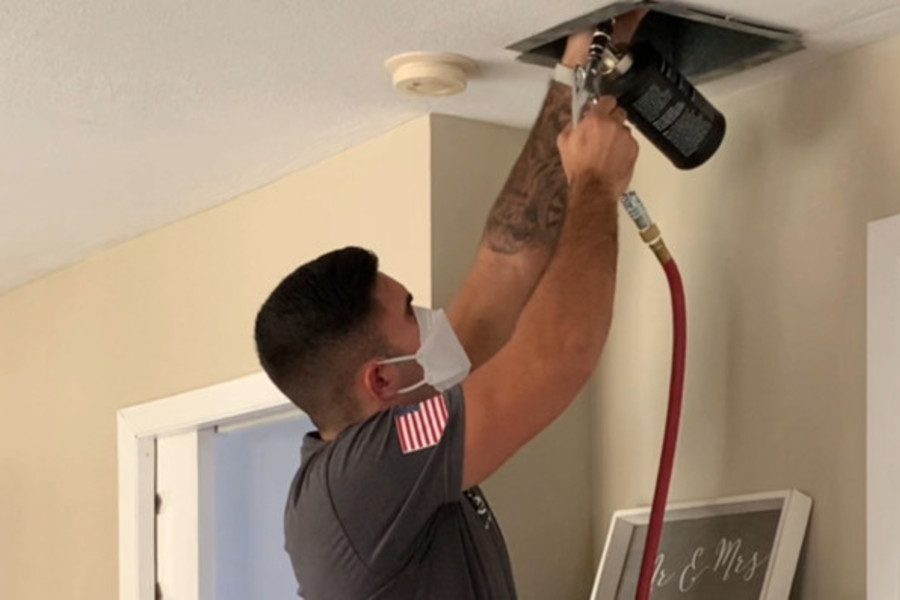 The air ducts within your home have a very important role, and that's to help funnel cool or warm air into every room. It's very important to ensure that your air ducts are clean and fully sanitized.
Why is that? A lot of bacteria can accumulate in these places, and it can easily spread to other locations within your home. That's the reason why you want to sanitize your air ducts properly and once you do that right, the benefits can indeed be second to none.
Eliminate bacteria and mold
The main reason why you want to use a sanitizing service is because it allows you to focus on removing all the bacteria and mold that formed within your home. Making sure that you clean the air ducts properly is very important and the focus is to do this at least once a year, if not more. That's important because mold stores are very problematic to the point where they can bring in a huge issue all the time.
What is the difference between cleaning and sanitizing?
A lot of people think that sanitizing and cleaning are the same thing. That's not true at all.
In fact, cleaning is designed to help remove any of the solid matter found inside the air ducts. It can be allergens, but also bacteria and dirt or mold. Even clogs might appear at times, and those need to be removed. That's why it's imperative to clean your air ducts often, as they can host a lot of unwanted compounds that can be very problematic.
Then we have sanitizing. What you will notice is that sanitizing goes a step beyond what cleaning usually does.
The idea here is to help remove microorganisms and germs with specialized disinfectants. It's an imperative solution to keep in mind, and you will obtain exceptional results with this type of product, which is something to keep in mind.
Disinfecting is also important, because you can focus on removing any viruses or germs from the surfaces. While disinfecting is not exactly necessary for air ducts and sanitizing will usually do the trick, it will get the job done and that's exactly the thing to take into consideration.
A very popular sanitizing method for air ducts
What's important to keep in mind is that different companies will use a variety of sanitizing methods for air ducts. A very popular one is the sporicidal fogging method. The idea here is that you use the sanitizing product which ends up getting aerosolized into small droplets. Then you use the disinfecting solution that will help eliminate any unwanted compounds on its own. It's a very good option and one that will indeed make a huge difference all the time. Doing this can help work very well against a variety of bacteria and germs, and that's totally one of the things you need to think about as much as possible.
Is it a good idea to sanitize your air ducts?
Absolutely, what you will notice right away is that there are far less unwanted odors. Bacterial odors can be quite problematic to the point where they will bring in a lot of potential issues. Thankfully, sanitizing the air ducts is amazing, and it will help remove those bad smells very fast. It's definitely one of the top options to take into consideration.
Another thing you have to keep in mind is that air ducts can help reduce the moldy smells that you encounter, which is extremely important to think about here. And yes, it will help tackle any lingering smells within your home. Those smells might seem common, but you can remove them and this is the best way to do it.
Aside from that, sanitizing air ducts will help you remove bacteria and allergens which can have a negative impact on your health. The faster you address this problem, the better it will be. That's why we think that sanitizing air ducts is a great idea and it does allow you to keep fresh air within your home. Otherwise the air ducts will be filled with mold spores and other compounds that will damage your health. If you address this properly, nothing will stand in your way, so the faster you tackle that, the better the outcome will be.
How can you choose the best duct cleaning company?
It's very important to find a professional duct cleaning that will help you solve any issues and ensure the process is fast and convenient. Figuring out how to sanitize air ducts is very important, but you do want to be certain that the company you work with is the best in the industry. That's why we created a list with some of the top options to keep in mind.
It's very important to check for references and reviews. These will give you a good idea of what you can expect and also show the experience others had with them. The more you learn, the better, as it will help make the right decision.
Do they have insurance? During the duct cleaning process some things can go wrong, so you do want to ensure that the company is insured and their insurance company can easily cover all the damage. An insured company gives a peace of mind, so it's definitely something you want to keep in mind.
Ask for a quote. This will give you a good idea of what they charge and what you can expect. It's very helpful since you will understand whether the company in question fits your budget. You also want to see what's included in the quote, as some companies might not include everything you need and those additional services are charged as extras.
Experience matters, so you do want to see how much time they have been in business. That doesn't mean a new company might be bad, but an experience duct cleaning business will give you the peace of mind knowing everything is ok and they do have the knowledge, tools and expertise needed for this type of process.
It's a good idea to ask if they use biocides and other chemicals. Knowing this might not seem like a lot, but the truth is that you don't want to work with someone that uses chemicals, because I can be very problematic and you should totally take that into account.
Some companies offer a visual inspection of the duct system, others don't. It's a good idea to have a visual inspection so if you work with a company that can provide that, it will be well worth it.
There are many criteria to focus on as you choose a duct sanitizing and cleaning company. Which is why we think that these tips and ideas listed above will make it easier to pick the best option!
Conclusion
We believe that sanitizing air ducts is crucial and it will indeed help prevent any health issues. The last thing you want is any type of mold spores or bacteria spread within your home. It might not seem like a lot, but these issues arise and you really want to deal with them properly. It's definitely not easy to handle that, but with the right sanitation system in place you can make it work. Use the tips listed above and if you have any questions don't hesitate to contact us for professional air duct cleaning and sanitizing services!